Inside Australia's fastest growing major religion
Australia's fastest growing religion
(following this link above you can read and watch it online).
There are now 20 times more Hindus in Australia than there were 30 years ago. How is the community adapting to the surge?
 In a tiny, makeshift temple in the back of house in Sydney's west, a young Nepalese-Australian couple are becoming husband and wife.
Their backyard wedding has all the colours and traditions of a typical Hindu service but is carried on a much smaller scale.
Some two dozen guests pale in comparison to typical Hindu weddings, which can sometimes bring together over a thousand people. And while some celebrations last for several days, this one is over in two hours.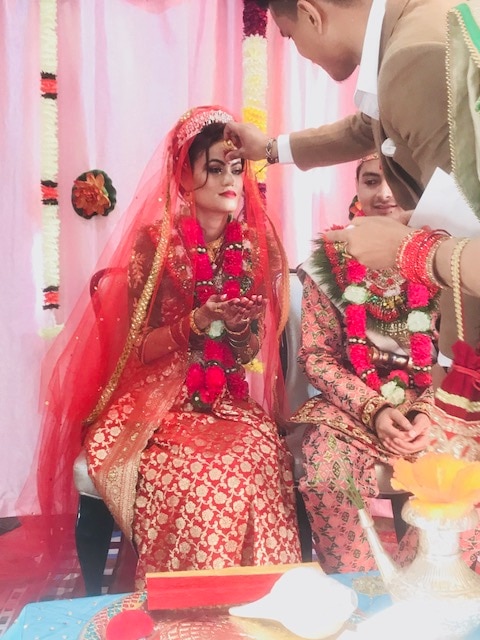 He told SBS News this modern type of ceremony has become an alternative for those in the community who can't afford larger celebrations. It is also a response to the growing demand for local temples.
"Temples are fully booked," he said laughing. "Demands are growing, people are growing and generally Sydney is growing. Australia is growing."
Australia's fastest growing religion
Hinduism is widely practised in the Indian subcontinent, but according to the 2016 census it is also Australia's fifth largest religion (after Christianity, Islam, Buddhism, and those declaring themselves as having 'no religion').
And while Hindus represent just 2.1 per cent of the Australian population, demographer Mark McCrindle says the religion is expanding at record pace, largely due to migration.
"30 years ago, the top countries of migration were all European countries, plus New Zealand. Today you've got China, India and Vietnam, all those top countries of Australians born overseas," he told SBS News.
"So that's seen the massive change. At the same time, we've seen the number of Hindus go from about 20,000 to 444,000 currently."
Sikhism is Australia's fastest growing religion overall, at a rate of 74 per cent, but it accounted for only 125,901 people in Australia at the last census.
Christianity numbers drop as other religions thrive
In the past five years, the number of Christians in Australia have dropped by 7 per cent, while those identifying with no religion is up almost 50 per cent.
"As Australia has got more culturally diverse, it's got more religiously diverse. Christianity used to dominate and still does, but we've seen those non-Christians rise too," Mr McCrindle said.
But, he said: "it's not just a story of 'no religion' growing, but religions other than Christianity too."
Since 2011, Islam has risen by 27 per cent in Australia and Buddhism has grown 7 per cent. But of the top five religions, it is Hinduism that has seen the most significant growth, with a 60 per cent increase.
Temples growing with the community
The transformation of the Shri Shiva Mandir temple in Minto, in Sydney's southwest, is symbolic of the growth.
It first opened in the early 1990s, and at that time, services would take place in a small room in a fibre-glass house, catering to the small community of 30 to 40 people.
Narayan Bhatt, who migrated to Australia in the late 80s was one of the temple's first priests.
"At that time, if I got 20 people I'd be very lucky," he said.
But as the community grew, so did the structure, which now stretches across five acres.
Today up to 400 worshipers can pass through the temple in just one day.
Ashwani Sharma, Director of the Hindu Council Australia, told SBS News it is a similar story across the country.
"Melbourne, South Australia, Adelaide, Perth, Queensland and Newcastle … there's a significant demand for worshiping in temples in all of those areas."
Most Hindus are migrants
The majority of Hindus in Australia are migrants, with 81 per cent born overseas.
"When you look at the Census data, the majority of Australians who say they're Christian are born in Australia, the majority who say other religions were born overseas," demographer Mark McCrindle said.
"In fact with Hinduism, for every Australian born Hindu, you've got seven who were born overseas."
But, he said, the statistics are shifting.
"Now we have first born and second born generations that have a culture from overseas but are Australian, and that's where we are seeing the generation of Hindus and other religions."
Hinduism with an Australian twist
With new generations, comes new approaches to practice.
University student Sanjana Madhyasta's parents' were born in India, while she was born in Australia. She says, compared to her parents, her take on the religion is far more modern.
"Being in Australia … there is a bit more of a twist and a different understanding to the things we do," she told SBS News.
"For example, when we come to the temple, it's not just about coming to pray to God but it's more about the idea of meditating and being in that peaceful state of mind."
Kiran Sampathkumar, who is also a second generation Hindu, says while growing up in Australia he has been exposed to other faiths and cultures, and that has influenced the way he approaches his faith.
"I went to a Catholic school … We would always have prayer before class and we'd have mass every week. And then I'd go home to a Hindu family. So that did confuse me a lot.
"But I guess me learning about another culture, my own religion, really did help me understand myself … what interests me and what drives me."
By Abbie O'Brien
Source: https://www.sbs.com.au/news/inside-australia-s-fastest-growing-major-religion?cx_cid=edm:newspm:2017
       Music: .Yeah Baby Refix Garry Sandhu Latest Punjabi Songs 2018 Fresh Media Records